The popularity of the tiny home movement is no secret, but what remains a mystery to most people is how tiny home dwellers actually make their space work in their daily lives. One fascinating aspect of tiny home living is cooking and food preparation.
"The main challenge is space, because so much of how we've learned to cook is based on having larger appliances," says tiny house pioneer Dee Williams, founder of Portland Alternative Dwellings and author of "The Big Tiny."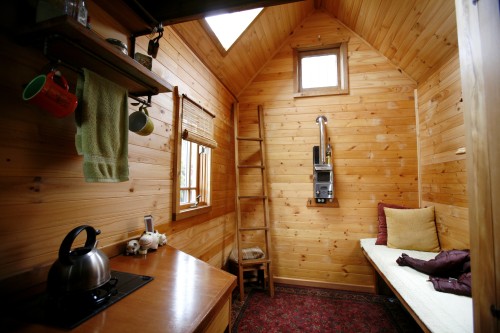 Dee Williams' kitchen includes a single-burner stove, limited counter space, and wall-mounted storage. Photo courtesy of Dee Williams.
When Williams was planning her move from a big home to a tiny one, she had to measure her largest pot to see if it would fit her new small stove. In other words, whatever didn't work with the space simply had to go.
Pare it down, plan it out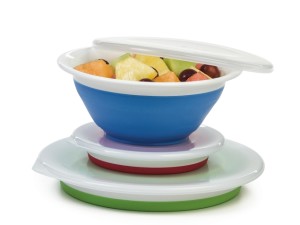 Collapsible and stackable bowls like these fromProgressive International can serve many purposes.
For those who are thinking about taking on the tiny home lifestyle (or for those who are simply curious), start paying attention to how you use the kitchen you have now. For example, how often are you using more than one or two burners? Do you ever use the entire space of the oven? How many of your kitchen gadgets do you actually use on a daily basis?
"The reality is that we only use a portion of our kitchen," Williams notes.
A tiny home doesn't mean you'll be limited to microwave meals. Cooking nutritious, complex dishes is still possible, but you have to be organized and understand that food prep tasks may require patience. "It takes me a lot longer [to cook a meal] because I have to rotate, and I don't have a lot of prep space," says Williams.
Tiny home dwellers may also have to rely on friends and neighbors for help when they don't have the space to store multiple pots or food for a big meal. Williams says this fosters a greater sense of community.
"The thing that's been a challenge for me is that I'm part of a soup club," she says. "I have to cook soup for eight people, so the days I have to do that, I have to go and borrow a pot."
Functionality rules
To make a tiny home kitchen work more efficiently, Williams suggests simple solutions such as using a drop-down kitchen table that you can easily remove when it's not in use.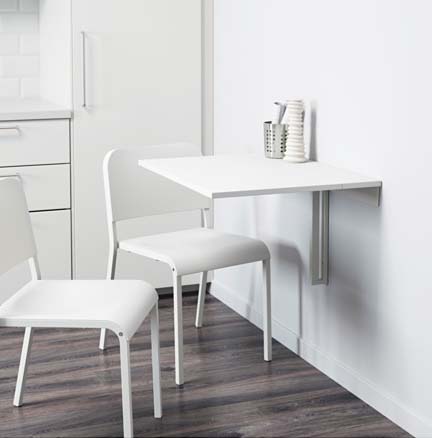 A drop-down table like this IKEA model supplies prep and serving space when needed, and folds away when not in use.
Other tips include putting drawers in the often-unused toe kick space, hanging pots and pans from the walls or ceiling, and putting a large cutting board over the sink to extend your prep space. Use one-pot recipes, and check out cookbooks that are specifically geared toward living small, such as "My Tiny Alaskan Oven" by Ladonna Gunderson.
While working in a two-by-two-foot kitchen space would be a challenge for most people, Williams embraces it. "Learning how to live small is not letting go, but stepping into an adventure," she says. "It's an invitation to reexamine who you are. I think that's really fun."
Related: